Shoe store story #02|About the shoe industry
ZUCCO
Blue over sample craftsman. The shoes are made by hand, from the pattern to the sewing and shoemaking. We also handle factory arrangements and material setup.
@blueover_zucco
This series is a compilation of several notes I wrote in order to explain my work, namely making shoes, as clearly as possible.
<Story of shoe production>
Let's talk a little bit about shoe production.
The shoe industry has a division of labor system. This is a common story for everyone who works in shoes, and many of you may have heard of it. The division of labor is really finely divided.
First of all, there is a leather shop, a lining shop, a sole shop, a sole material (rubber) shop, a wooden pattern shop, a processing sole shop, a cutting shop, a cutting shop, a sewing shop, Back pasting shops, string shops, glue shops, recruitment factories, etc. You may also use fabric. In that case, you will also need a fabric store.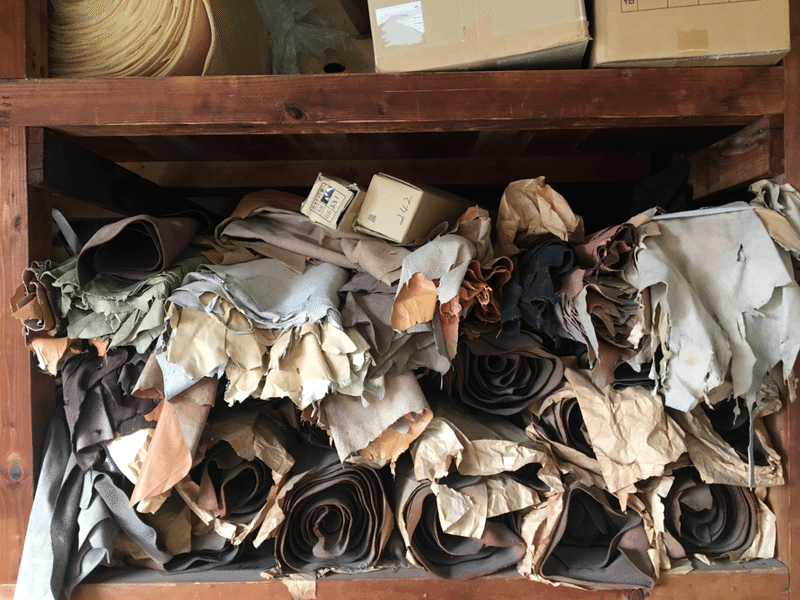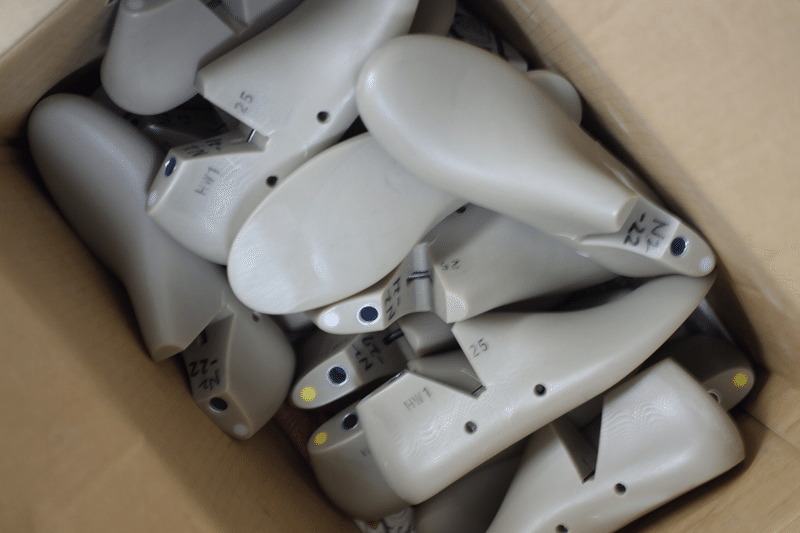 I think many manufacturers purchase their products from material wholesalers who purchase and sell a variety of materials.
We do relatively many direct transactions. When you do business directly, you can communicate with the factory and they will tell you anything you don't understand or want to know. You can get hints about the issues you are facing and get closer to your goal.
(*For example, when sewing the bottom using the Mackay method, we received several strong insole materials from the insole manufacturer.)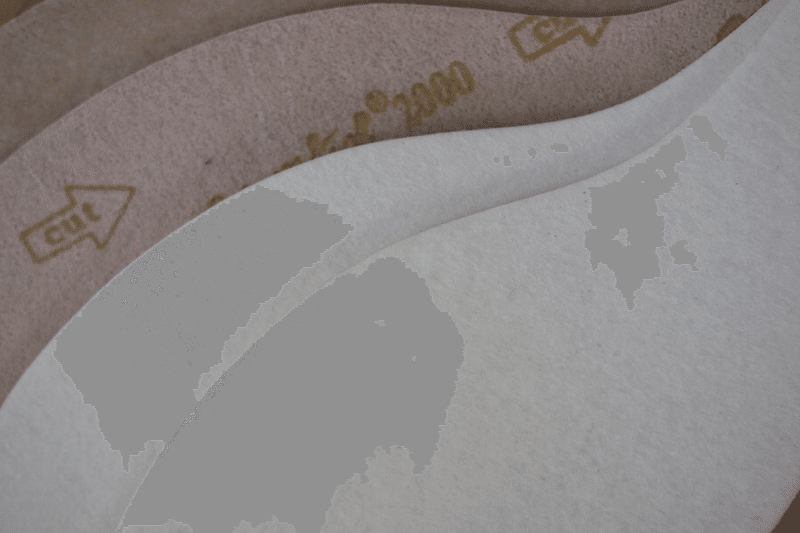 Before I got so involved in shoe work, I had no idea that there was such a detailed division of labor.
When I decided to make shoes, my grandfather, the craftsman, and my seniors often told me, ``Don't wear shoes, instead use bags.'' Shoes require a lot of effort and money because there are so many people involved.
In addition, since the cutting dies are different for each size, cutting dies for each size are required, which is very expensive. Bags are not available in different sizes, so the initial cost is lower compared to shoes.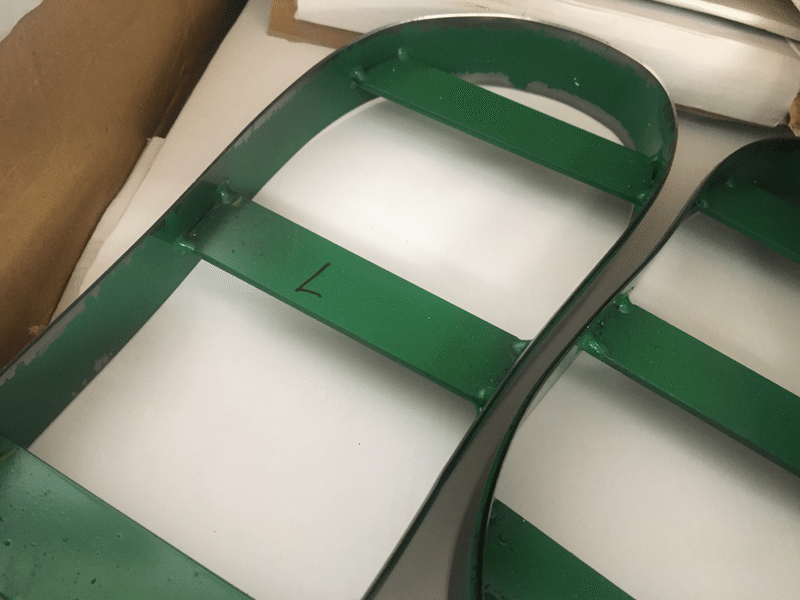 Still, I keep wearing shoes, and I often think that it's like running a marathon. 5 km, 10 km, 20 km, etc. Even if you pass various points, keep running and aim for the goal.
And the finished shoes. When the shoes you put so much effort into turn out to be better than you imagined, you will feel indescribably happy.
<Flow of shoe production>
Yesterday, we finally gathered the materials for the model Mikey: Suede , and made arrangements to send all the materials to the bottoming factory. The material is different from the standard Mikey , and this model uses pig suede.
Let's briefly summarize the process from receiving an order until the shoes are completed.
① Summarize the number of orders
We received orders at the end of April and compiled the number of footfalls in May. This goes without saying, but if you order the wrong color or size, you'll be in trouble. Materials such as insoles and soles vary in size, so be careful not to make mistakes. I compared the numbers many times to make sure that the number of feet I had put together matched the order form.
② Order each material
Order each material for the total quantity.
The materials needed are...
Outer leather (pig suede for this model)
pig lining
insole
Insole
outsole
string
woven name
Toecap
counter
box
Or something like that? Each material store is different, so I created an order form for each. We also give the order form to the sewing factory and bottoming factory in advance and confirm their capacity. Here, as in ①, check again and again to make sure the numbers are correct.
③ Send the upper material to the sewing factory
It takes about one and a half to two months for the outer pig suede to be completed. This time it came up in July. I ordered it in May, so it took 2 months. Then, the pig suede is lined.
Pig leather is characterized by its lightness and durability, but the thickness of the leather itself is thinner than cowhide. Since the standard Mikey uses thick velor , it looks soft and fluffy when compared to the other models, so considering that it will look quite different, we have applied reinforcing material for shoes to the entire leather. So, when the leather arrived, I sent it out for further lining processing.
Then, we sent the outer leather, lining, woven name, toe cap, and counter to the sewing factory.
④ Materials are collected
Then, the materials ordered in May will be collected. I finished sewing the upper and everything was assembled the day before yesterday.
⑤ Send all materials to the bottoming factory
Yesterday we proceeded with preparations for bottoming out all at once.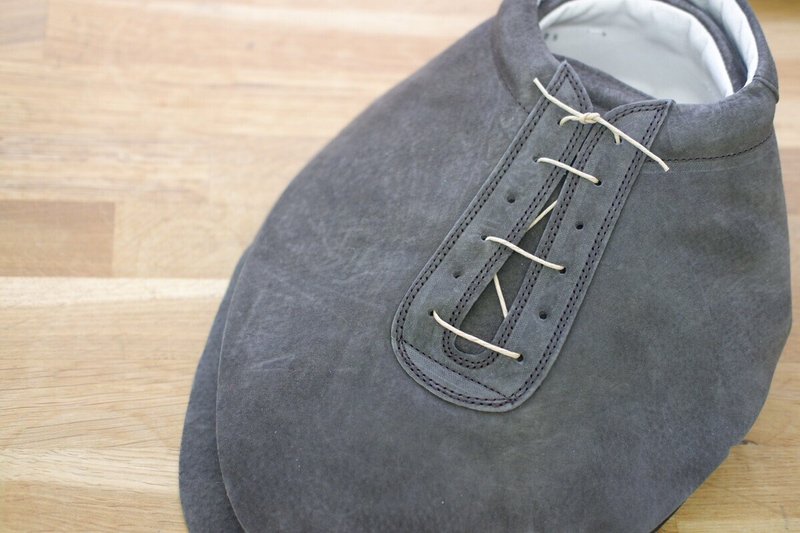 mikey suede gray upper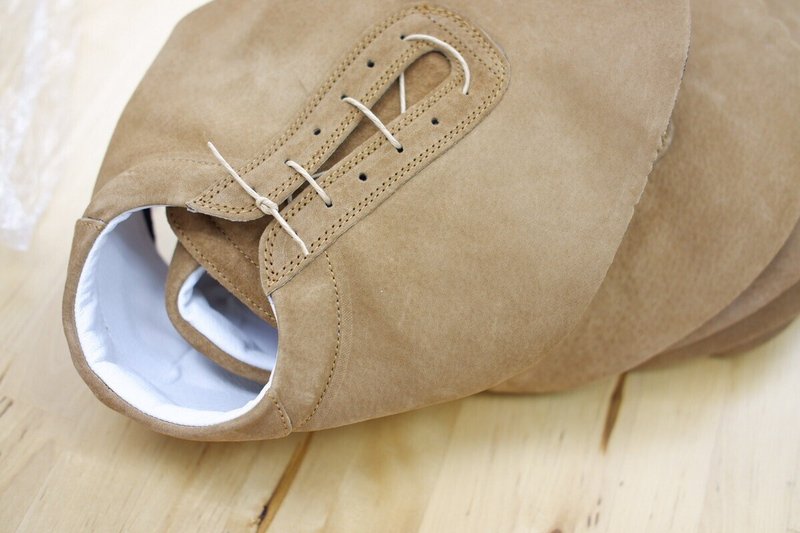 mikey suede camel upper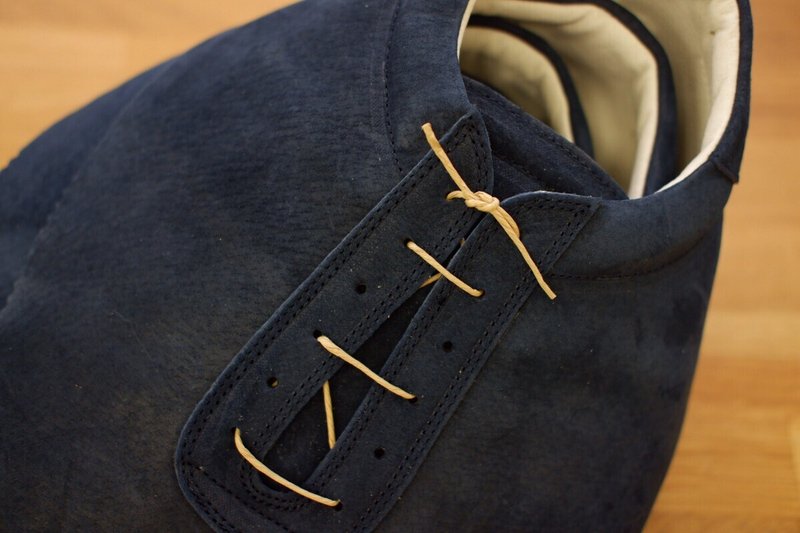 mikey suede navy upper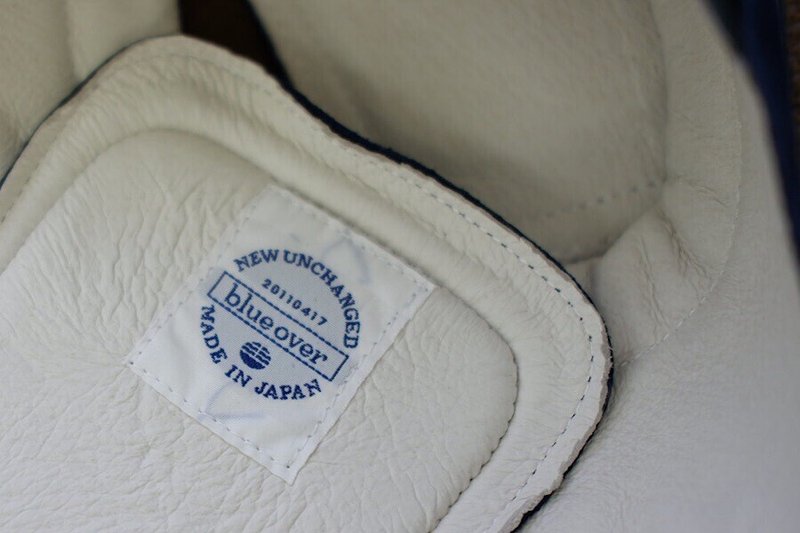 Velo woven name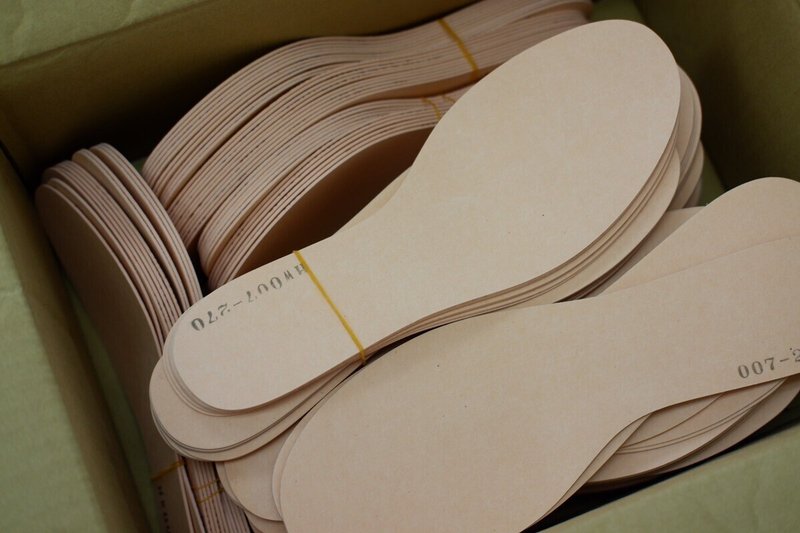 Insole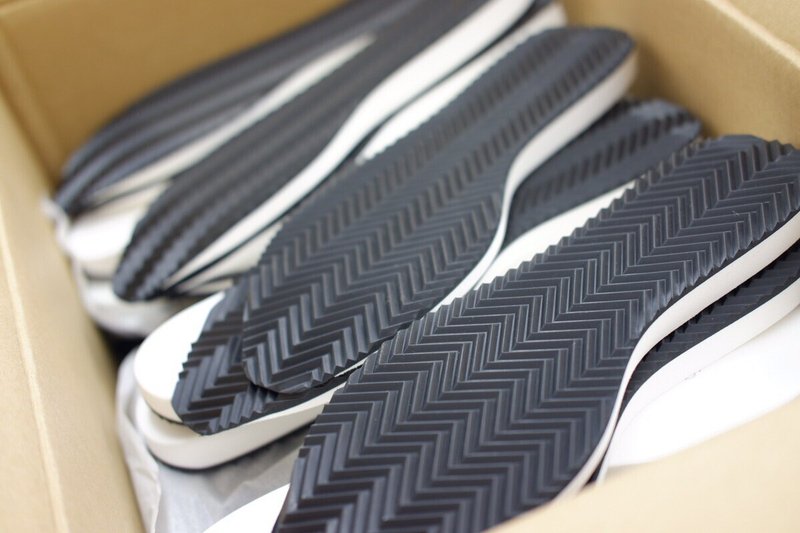 outsole
We also sent laces and stickers to put on shoe boxes.
Afterword
It's been a few months since we compiled the numbers in May, and the products will be added soon. Until the shoes arrive, I can't let my guard down because something may happen, but now that they've been sent to the sole factory, they're at the final stage, so I'm a little relieved. I don't think you have a chance to see the upper of a shoe very often.
How do you like it? I like it lol. Even though it was just an upper, when it arrives as a shoe, it feels like a living thing with soul, which always gives me a strange feeling. I can't wait for it to arrive.
And to everyone who has been waiting, it will be completed soon, so please wait for a while.
<For wooden molds, please consult a wooden mold shop>
The last also affects the shape and comfort of the shoe. When you want to make shoes, you usually need a wooden mold. There are used wooden molds for sale online, but they may not be the shape you like. How can I make an original wooden mold?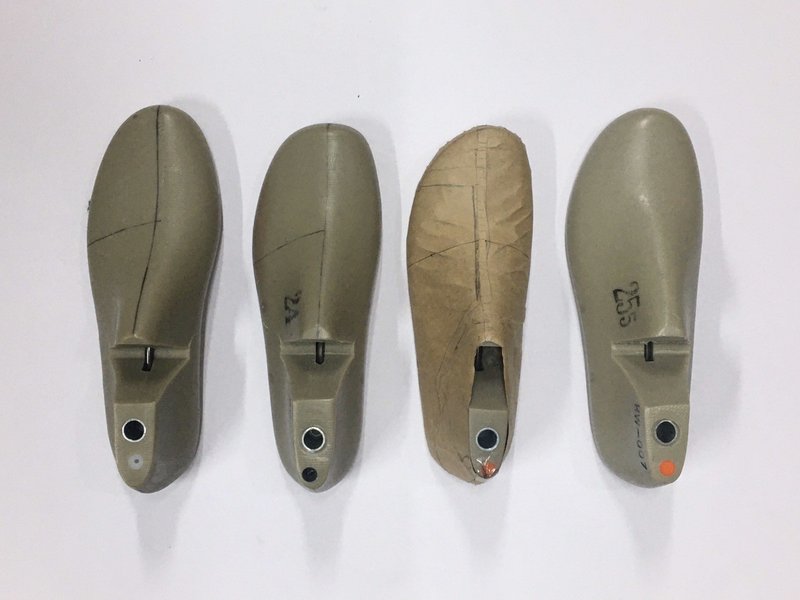 When making a wooden mold, it is best to consult a ``wooden mold shop''. The mochi is made by a mochi shop, and the wooden mold is made by a wooden mold shop.
Let's quickly decide what kind of shoes to make.
Are you looking for women's or men's shoes? Is the size in 5mm increments or 1cm increments? How much circumference should I make? Are they sneakers or leather shoes? Are they round shoes or elongated shoes?
If you have a model of shoes that you own or have a wooden last, it is a good idea to have them take a look at it with you.
Based on the consultation, the mold maker shaves the [wood] by hand.
We will carve the wood based on your requests and consultation. Truly a craftsmanship.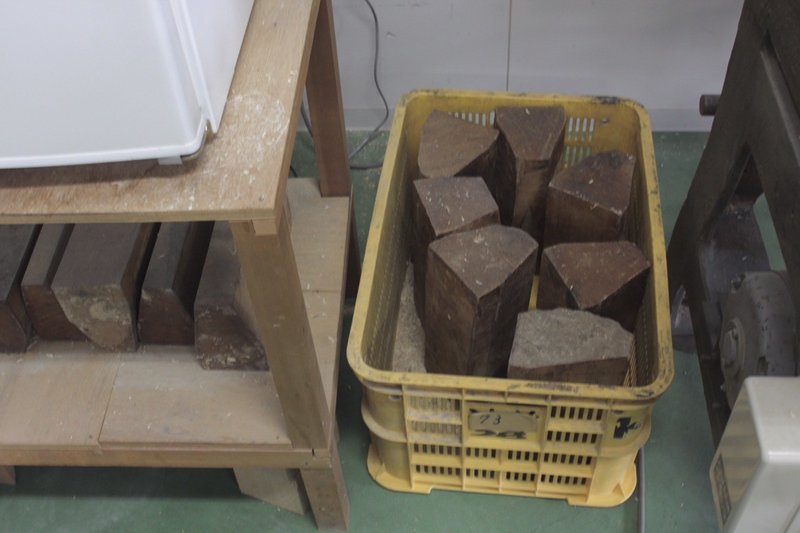 It involves carving a piece of wood, like the one in the photo above.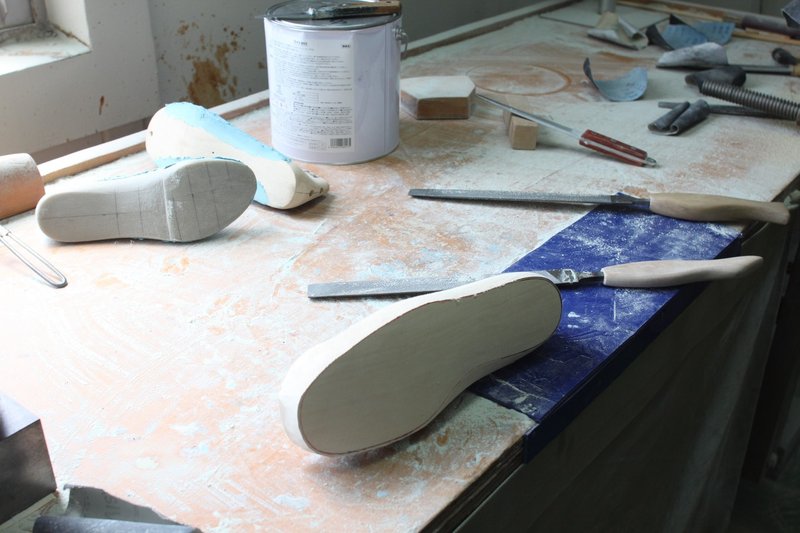 Create a sample that you can try on based on the finished wooden pattern.
I'm on my own here. Try making shoes based on a wooden pattern carved by a wooden pattern shop.
Below are photos of AROA samples. The suspension has been made smaller since the sample.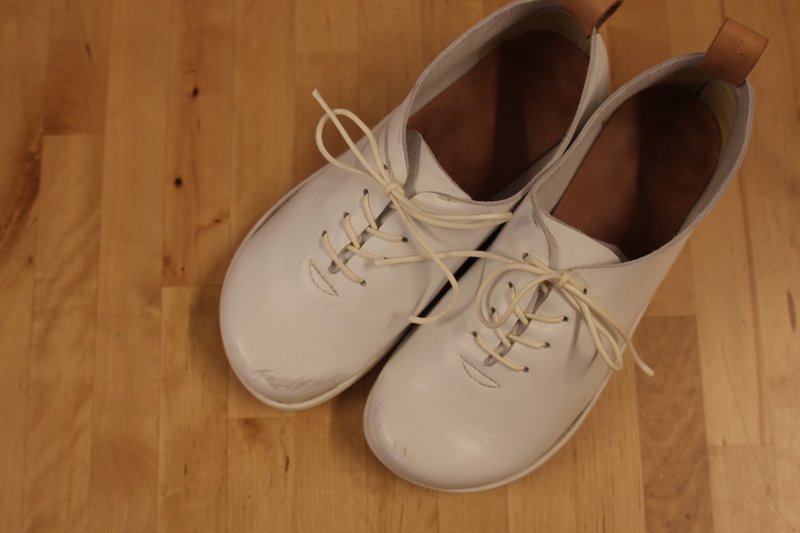 Wear the sample and adjust the size and form
We will also consult with the mold shop and make adjustments. This may be repeated several times.
In the case of AROA, I had a sole that I wanted to use as a base (the sole of a nurse's sandal), so I created a wooden pattern based on the sole. The sole design is usually based on a wooden pattern.
Mass production of wooden molds
Once the final shape is decided, plastic molds are mass-produced based on the carved wooden molds. It is called plastic type. You might think that something made of wood would be cooler. However, wood changes size, cracks, and rots depending on the moisture in the air. Plastic molds hardly change in size and can be used for a long time.
Another feature of the plastic mold is that it is easy to remove the mold from the shoe when it is finished.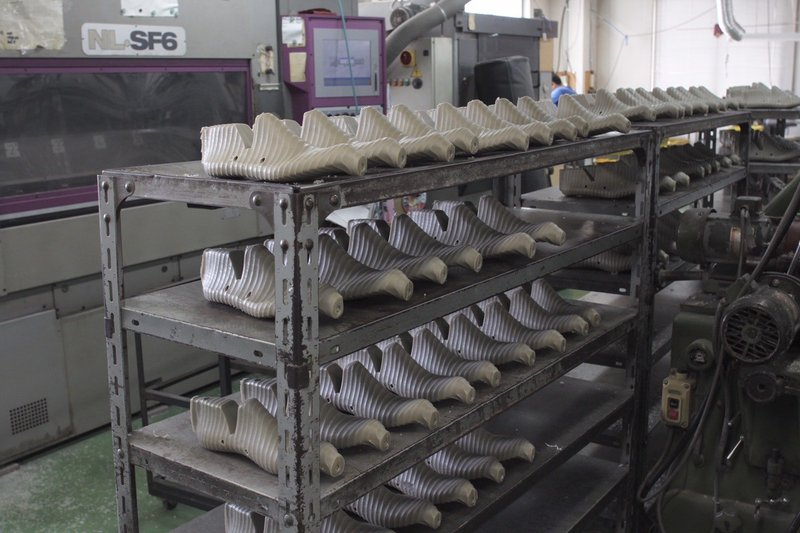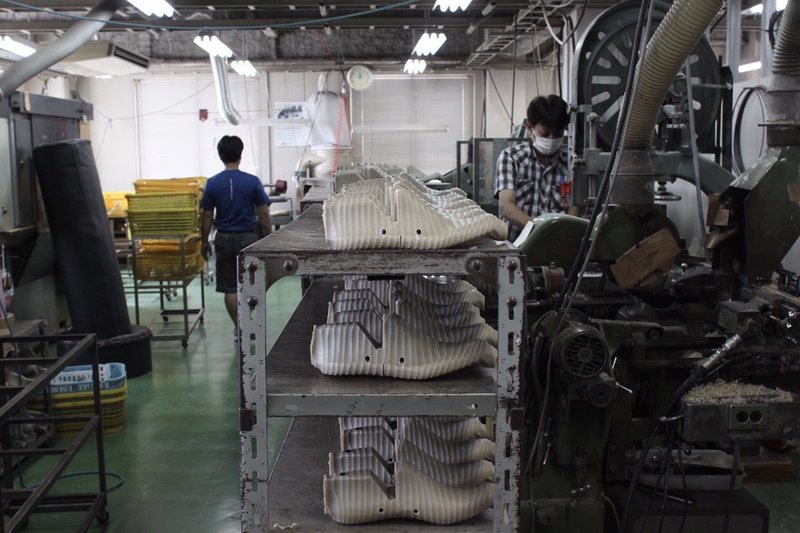 The rustic atmosphere and roughly carved plastic mold are also cool. I love the industrial atmosphere. To mass produce shoes, we need several identical lasts of the same size. In the case of AROA, there are 12 wooden molds in 3 sizes.

It costs about 5,000 to 6,000 yen to make a plastic mold in Japan. Of course, a sample fee is also required.
If you are interested in how much it costs, please try calculating it! It takes a lot! !